Artificial Intelligence is increasingly becoming a subject of decision-making. In a number of narrow fields, such as healthcare and IoT applications, AI solutions are already capable of making autonomous decisions and do not require human involvement at all. We are far from Artificial Super Intelligence, however, more and more governments, communities, companies, entrepreneurs, scientists, and even celebrities are calling for a thoughtful and cautious approach to these technological developments.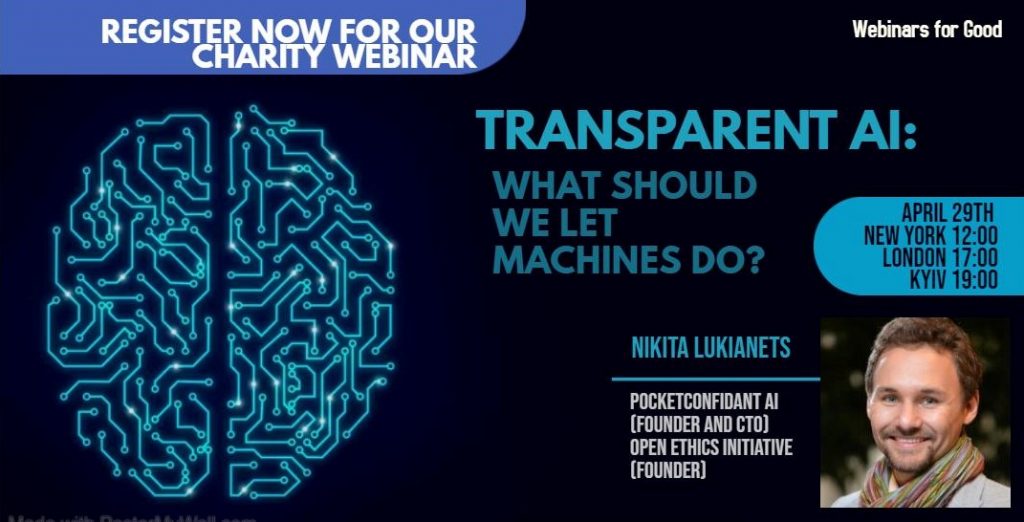 Join me on Tuesday, April 29th 2020 in webinar for good to learn whether we have reasons to be worried about artificial intelligence, and how we can prevent negative consequences. I will talk about AI regulation and approaches that could be used in our objective to make machine decisions transparent and safe.
Webinars for Good
This event is part of Webinars for Good series, to raise funds in support of nursery homes for the elderly in East Ukraine. If we reach our goal of 5000 GBP, it will be matched by our employer under the European Bank of Reconstruction and Development Community Initiatives, doubling every donation. With 10000 GBP we will provide basic medical supplies to 3 nursery homes for the elderly evacuated from the conflict area, run by UNHCR partner NGO.
Learn more or donate to our cause here.