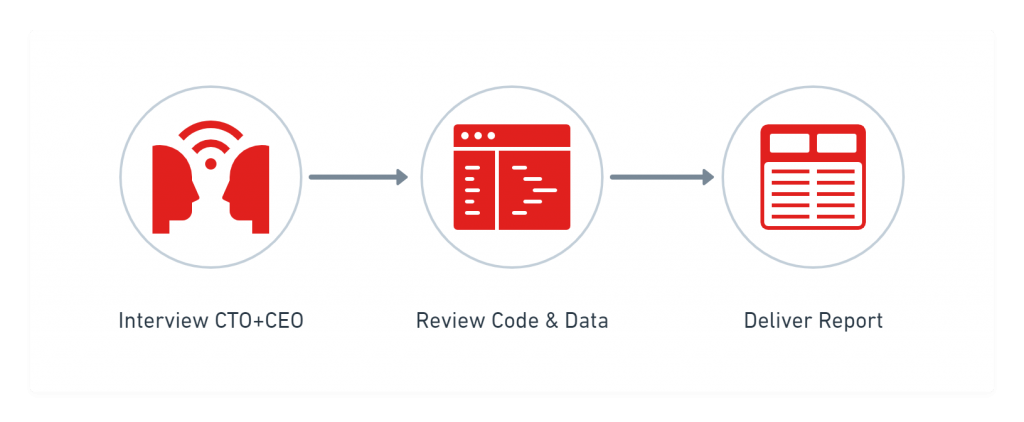 I provide technical due diligence services to help in investment decisions. Typically my clients are early stage VCs and Business Angels. I specialize in data-intensive projects on the intersection of machine learning, data science, cybersecurity, privacy, and AI ethics.
FAQ
What is technical due diligence?
Technical due diligence is a key step in the technology company investment cycle. It seeks to uncover facts that might materially impact the investment positions. In technical due diligence, we want to identify any technical issue that will significantly impact the product roadmap, and therefore delay deployment, sales, and revenues.
Who is your customer?
Typically my customers are early stage VCs and Business Angels.
How do you approach the due diligence process?
First, I talk with the investor to understand perceived risks and objectives of the due diligence. From the technology and organizational perspective, I assess the resource demands that should be met to fulfill the product milestones over the next 12-24 months. I then correlate the plan from the engineering team with my assessment of the R&D efforts required to meet the business plan and revenue targets.
How does the typical due diligence project look like?

The main stages of the project are:
Get the information from CEO/CTO plus the intro web interview: Acquaintance (~2 hrs) + Technical deep dive (~2 hrs)
Code, Architecture, and data pipeline review. Q&A with the tech team (~5-7 days)
Preparation of the report and presentation of findings to investors (~1-2 days)
What are the elements of the technical due diligence?
I look at elements such as the capacity to scale, roadmap, development velocity, data privacy, cybersecurity, IP, and predictability of the tech organization.
People & Organization: Does R&D burn-rate correspond to the company stage and milestones? Is there a business continuity plan in place, and if not, what risk is undertaken? Is the tech stack modern enough to sustain a competitive development velocity and attract new talent?
Data, Architecture, & Code: How sophisticated are the data science and machine learning algorithms claimed by the company? Does the company have proprietary datasets? Is the code written in a maintainable way? Is there tangible IP that provides a barrier to entry to competitors?
Processes, Practices, and Tools: Will the existing engineering practices scale appropriately with the company growth? Which skill gaps should be covered to provide efficient delivery and predictable time to market?
What are the benefits of conducting technical due diligence to the startup and the investor?
Due diligence lets us understand the current status of the product and the processes in the team, paving the way for better future decisions.
Allows to adjust the product roadmap and to discover future expenses for product improvements not visible before.
Technical due diligence processes highlight possible risks for both a startup company and for the investor.